The linear weighing machine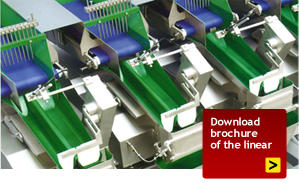 Linear weighing machine Alpha I – V
The linear weighing machine Alpha I – V from Paripac is used to weigh food products from 0 - 10 kg. One or several systems can be placed together and used in the modes "weighing", "counting" or "mixed"
Notions: accuracy, reliability, robustness as well as easy handling, disassembling and cleaning and working in a humid environment.
The company
Our history ...

The company PARIPAC was founded in 1993. Since then it manageg to realize hundreds of industrial projects.
For 10 years, Paripac's activities have been recentered around linear weighing machines
Christine Kauck (Director).

Contact
PARIPAC
18-20 rue Lamarck
75018 PARIS
Tél. : +33 1 56 02 63 60
Email : contact@paripac.com